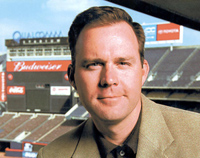 Rick Carr, Esq. is a Broadcast Agent and former sportscaster with nearly 30 years of combined experience in the television news business.
As a licensed attorney in Colorado and California, he represented physicians and Fortune 500 companies, and he negotiated multi-million dollar deals involving Ford, General Motors, and some of the world's largest insurance companies.
Rick is also married to a news anchor, and through his decades of involvement in television news, he saw the need for a new kind of representation – an alternative to traditional media agents.
With that in mind, he created TVCONTRACT.COM.
Rick is more than just an agent who can negotiate and advise you on your contract — he's an industry authority who can help with your resume tape, provide career advice and counseling, as well as knowledge of current market trends. All this, while freeing you from the perpetual commission obligations that most traditional agents demand.
Rick's also able to review your current or potential contract with a traditional agent or manager, so that you know what you'd be getting into, *before* you sign it…. and he can answer any questions you might have about your options during an agency relationship.
For Anchors, Reporters, Meteorologists, Hosts, Producers and all other types of broadcasters and journalists who want to save money, TVCONTRACT.COM is the answer.
Please click on the links above for more information, and we look forward to working with you soon!